President of the Nigeria Football Federation (NFF), Amaju Pinnick has revealed that the much awaited contract of Super Eagles Coach, Stephen Keshi has been finalized and ready to be sent to him before the end of the week.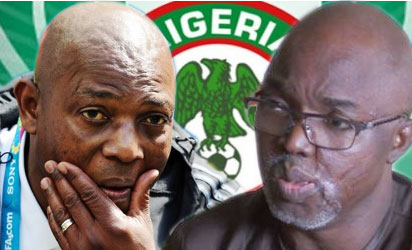 Pinnick who spoke to journalists yesterday in Abuja said the federation was eager to conclude the contractual agreement so as to enable the coach resume work if he agrees with what is contained in the document.
According to him, contrary to insinuations in certain quarters that the NFF was deliberately delaying the process, the seeming delay was because the federation was avoiding litigation.
"We have done everything concerning Keshi's contract, the only reason it stayed this long is because we don't want litigation, we have to look at everything that will protect him and also protect the federation. What we want is the best for the country and that is just what we have done. After looking at the contract and agrees to sign it then we are ready to roll".
On the rumour that the former Super Eagles captain may be heading to Burkina Faso to coach their national team, Pinnick said "Keshi is a man that has his choice, if the Burkinabes are offering him a better deal than what we are offering, then it is unfortunate that we will allow him to go, we cannot hold him if he wants to go".
The NFF boss also used the occasion to reveal that the out-of-contract coach has been paid all his outstanding allowances.
Meanwhile the board of the NFF will next week hold its meeting to deliberate on a number of issues.
Pinnick who confirmed the meeting said it was called to deliberate on a number of developments in Nigerian football including the issue of Keshi's contract as well as the outing of other national teams in international championships.