Love stories have been told around the world in more ways than one. Many have experienced amazing love stories and marriage proposals in ways that blow the mind. The love stories and experiences differ from person to person.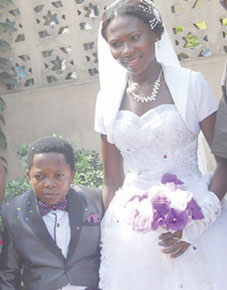 Last year, a blogger posted stories of different love experiences of young couples. A United States-based Nigerian Bukky and Samuel capped their relationship with Samuel proposing on the Atlanta Skyview. The love-birds started dating in high-school but passed through some troubles. Love however always brought them back together, stronger and closer than before until he proposed.
Also last year, a guy used a police stop to propose to his girlfriend in Port Harcourt. The man had earlier arranged for a stop-and-search on the road as he and his girlfriend were going to a restaurant. While the police were harassing the man, his girl was very upset. But he suddenly asked her to look up to a billboard positioned before them and she saw her photos on display. Family and friends of the couple from Lagos emerged from nowhere and a table was set-up outside the restaurant. The man went down on one knee, a 5-man orchestra played and he proposed undying love and marriage to her.
For Richards Ugochukwu who met his beau through the twitter, it takes a twitter proposal to seal their love. His other half, Oma Ezeagwu got a marriage proposal in a strange way. The couple met on Twitter in October 2012. The man chose to pop the question in a unique way and he got a reply "yes" from the beautiful lady.
A crowded Ikeja shopping mall turned out a veritable venue for another couple. They went shopping when suddenly, the guy went on his knee in a crowded mall and made a proposal to his girlfriend. They were surrounded by dozens of shoppers and the girl said "yes".
Chinedu Ikedieze, a Nollywood star few years ago shocked his fans when he tied a knot with a tall beautiful belle. Only true love could have joined them together. Talking about his love life, Chinedu says "God will not forgive you if you know you love a girl and she loves you and you know you can make a family. So, what stops you from telling her you love her? What stops you from telling her 'common baby, let's do this.' I just told my wife, "baby, lets do this and the rest is history".