With a towering reputation of doing good, Senator Oluremi Tinubu, (APC, Lagos Central) surprisingly, has only been formally engaged in government for less than four years. Her legacies as Lagos State First Lady are all over the world with products of her Spelling Bee competition doing valiantly in different professions.
Her life of mentorship, remarkably, spreads across the gamut of knowledge; from whiz-kids to the not so intellectually endowed Lagos Area Boys and Girls. Whatever the IQ quotient, Mrs. Tinubu or Mama as her wards call her, is an engaging personality almost always on the drive to get society engaged in good works. "What charity are you involved in," she asked this reporter not long after she arrived for the scheduled interview last Saturday.
Mrs. Tinubu, politician, preacher and patron of several good causes in this interview speaks of her experience in the Nigerian Senate, her engaging romance with her constituency and the prospects of a better Nigeria under an All Progressives Congress, APC led Federal Government. Mrs. Tinubu is married to Asiwaju Bola Ahmed Tinubu, the national leader of the APC and she is one of only two women to have sat in Senate after their husbands. Excerpts:
Almost four years in the Senate. How would you describe your experience?
It has been a mixed experience. Mixed in the sense that I feel grateful that I have had the privilege to serve my country but on the other hand, it's that my expectations were high. The expectation was that I would be among those that would make laws that would move this country forward, take us from the brink of despair and also move our nation, and especially our youths from joblessness to a place where they can have gainful employment.
I see a lot of things happening but little impact. Probably because I belong to the minority in the Senate and as such may not be able to get a lot done as expected.
Honour and privilege
But so far, so good, I am honoured and I am privileged to be there.
What would you describe as the high point of your representation?
The high point would be my interaction with my constituents. In my constituency, I promised them town hall meetings and I have been able to hold 13. It would also include my ability to use constituency projects in bringing the dividends of democracy to my constituents. But when it comes to bills, which is quite important for any senator, we have been able to present three bills and articulate motions concerning Lagos.
What happens to one Nigerian should affect the other Nigerian. We shouldn't play politics with the lives of people.
If APC happens to come as a majority today, I can tell you that we will be fair to all the states. We will take all states in Nigeria as our responsibility. What has to be done in any state even if it is won by PDP – which I doubt- but we will do what is necessary and that is how we are going to run this country.
Could we have an insight into some of the projects you have conceived for your constituents?
It is quite disheartening that constituency projects one has proposed every year do not come to completion. I proposed a drug rehabilitation centre which was to cost about N223 million and this is because of the youth restiveness that is all over the country and because of this you see a lot of young people addicted to drugs or engaged in substance abuse. In developed countries people can check themselves into clinics, to clean themselves up. Such avenues are not here.
No matter what street life may look like but where they are sober they wonder how they could clean themselves up. That was why I decided to build a drug rehabilitation centre that eventually that the state can take control of and affiliate it with the health care system. But up till now, the project is still ongoing.
The second one is to build markets for women which would not be sold, but those allotted would only pay monthly rent. But up till now the project is still ongoing. We also proposed a vocational training centre in 2011 and that is still ongoing. In 2013, we proposed for them to build a primary school in Tarkwa Bay.
Were these constituency projects put into the budget?
Yes, they were.
Does not constitute an infringement of the budget law?
We talk about it, we debate it, but nothing is done. Every budget presentation we talk about it, we invite the ministers concerned, but still nothing is done.
Is that not the story of a paddy-paddy Senate?
It is not paddy-paddy on our part. You see in the Senate it doesn't work like that. If you raise your hand to speak and if the president doesn't invite you to speak, nothing can be done and I am not going talk about that because the Seventh Senate is almost over. I am looking forward to a Senate where APC would be the majority, then we would be able to compare.
What is the status of your social security bill?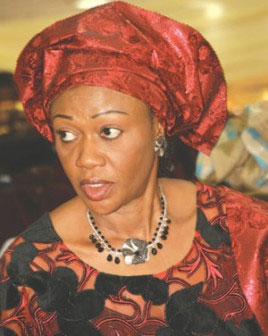 The social security bill went as far as the second reading, and it just went quiet because the Committee on Rules and Business did not bring it up.
What they did was to bring an existing bill that has been there with the National Social Security Scheme that the House had deliberated on for us to consider it together and bring it forth to pass it. It was then that I found the ridiculous arrangement that they now included an insurance component to apply to civil servants.
Insurance component
That meant that you had to pay some amount and then the government would pay some amount for the civil servants. But the one I proposed was for elderly citizens.
What was the thrust of your own bill for the elderly?
The thrust was financial assistance. I proposed it after I looked at the unemployment rate at the country and saw that it had risen to high figures. When you consider what happened during the Immigration Service interview scam, you will see how many youths are unemployed.
My bill was focused on the elderly, especially those in the agrarian sector that don't even have any form of insurance but have provided food for us over the years. You know that in our twilight years, our strength begin to diminish. So, if we are able to make sure that there is a monthly stipend that comes in, the burden becomes easier for the family.
When you look at Ekiti, Governor Fayemi started it and you can see that the elderly were happy with it and how much was given? Just N5,000. It did go a long way and that is what I was proposing. Let's start with the elderly, 65 years and above.
How much did you propose to give to them?
The agency would decide. I supplied all that was necessary in the bill such as the financial implications for the bill, but they just pushed it aside after second reading. They (senators) all welcomed it for first and second reading and referred to the committee to be brought back, but that is where it is now!
Another bill that I proposed was the Special Economic Assistance Bill for Lagos. We did it but I saw that the PDP senators were going to vote along party lines no matter how it was going to be beneficial to society and I said, okay, 'I will wait' and hopefully, if I go back to the Senate we will continue to pursue it.
It is for special economic assistance which has to do with the tariffs, VATs that are collected in Lagos and even if it is 1%, give to us which can be used for either repair of roads, maintenance of infrastructure.
You are the vice-chairman of Senate Committee on Labour and there is a feeling out there that the Senate has been passive on the issue of job growth and has remained passive on the alleged immigration job interview scam?
I spoke about it even in several interviews and they were saying it was best practises as applied all over the world.
Sitting chairman
That minister should have resigned. I said it! But you see, I cannot make an issue out of it if I have a sitting chairman. I don't see why this minister should still be there.
You conceived a Post Secondary School Scholarship Scheme for constituents. One would like to know the impact of that scheme and how you have used it to mentor the youths?
The 26 children that we took, I took them as my children but one thing that is wrong with our polity today is that people don't still trust politicians. Your goodwill is always taken for granted. These were quite unlike the Spelling Bee winners. They (Spelling Bee winners) have proved me beyond measure. Several of them are in the different professions, they are lawyers, accountants, doctors and it is just overwhelming. But what I now discovered now with this is that what we don't work for, we don't appreciate it, especially when we have not gone through the struggles of life.
What of the Good Boys and Good Girls Empowerment Scheme?
I love that, but to me it still needs some fine tuning. It has been one of my most expensive outreaches. Giving N100,000 to our so called area boys and girls. But you see what I discovered from them, they have the best business plans. If you look at the deliberations from one of my town hall meetings, you will see the businesses that they listed out. People can even go into businesses by looking at the list. It is incredible, but I love the programme even if it is an expensive project and we were able to reach about 117 of them and that is not enough.
So, I have said that this year, we are going to revisit it in a different way, maybe with N50,000 so that we can get more and this time I will bring a pastor in and an Islamic cleric to pray for them so that they can calm down. The ones that need to go through detoxification we will help them.
What impact has this programme had on society?
Pitiably, you still see some of them on the road still begging. You know this old song 'street life' where the singer was saying street life is the only life I know. The only life they know is street life, life of hustle and that is why I said I would do it differently now.
Do you see the APC forming the next government in Abuja?
By the grace of God, there is no contest on that issue. When you feel the pulse of the people, they want change. Enough is enough. Looking around us, what has been done so far? We are seeing youth unemployment, insecurity, lack of power.
Privatised power
We see a government that is playing the people like a pawn. It is sad. We are dealing with human lives for crying out loud. It is pathetic! It is sad! At times when I am at home the light goes on and off as if somebody is flicking the switch and you don't know what to do. Do you know that a number of equipment that would have been damaged, yet you said you privatised power? What about the promises with the refineries? These are areas that jobs could have been created? Who are the people put in charge of all these parastatals?
I like what our presidential candidate said, 'that I will not have corrupt people in government.' You don't just make one single man to be custodian of the wealth of the nation. It is never done. It is the commonwealth of the people. It has to spread round. Nigerians are never lazy people, give them the opportunity to work, they will work.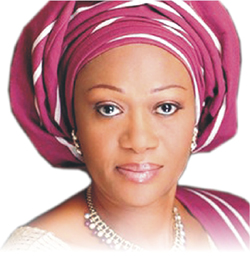 We are not lazy people and you know, biblically if a man doesn't work, he shouldn't eat. But we see a lot of people not working, just by hustling they are eating and they are eating fat. That is not what it should be.
You asked about the Good Boys and Good Girls Scheme, yes it may not have totally worked, but it has given me a greater bargaining power with them. So, when they come to me I ask, 'what did you do with the money I gave you?' and they say, 'mama, I gave it to my wife and my wife is trading with it.'
So, they give it to their wives to trade with it and they go out to hustle. And you know what many of them are coming to tell me now, to give them money to buy tickets that they have visa to go to London. Some I oblige because it is good for them to go to London to see whether they see hustlers on the streets of London and I want them to come back and talk to me.
The president has nominated Musiliu Obanikoro to represent Lagos on the Federal Executive Council, are you going to support him?
No, no. I didn't support him the first time and this second time I am speaking against him. I was on LTV this morning (Saturday) and I said it that his behaviour has not been distinguished. We are supposed to be distinguished senators.
Distinguished senators
Unfortunately, I was away when his case was presented and luckily, two of the senators have already written to the Senate President and when I came back I told Senator Ashafa that I will like to sign it and he said that the letter had already gone and that two is enough.
The first time (he was nominated) two of us signed it and addressed the press and so was the case with Roli George (as chairman of National Drug Law Enforcement Agency), but did they listen? You saw I spoke against it despite that she is a woman and what has she done with that position today? Was I not proven right?
I don't really like to see women having appointments and not doing anything to lift another woman up. I am saying it on record, no one should expect what I have done in my constituency from any other senator. It was because I did not spend a kobo out of my money. Everything given to me in the 7th Senate I gave out.
You are regarded as a Christian, a pastor…
I am not a pastor, I am just a deaconess but I am a graduate of Bible College.
In what way has your faith impacted in your service in the Senate?
A lot, a lot, a lot. Even telling you about my salary, it was an instruction from God. He said don't touch it and I can even give you the scripture. I shared it with people as I thought I won't be able to do that, but it was easy.
What is the scripture?
Leviticus 19: 23 – 25.
That you should not touch your salary?
Yes, for three years and the fourth year, use it to praise me which I am still using it to work. It is part of praising God. If you wipe the tears off people's faces, what are you doing? Doing what God expects you to do.
He said the fifth year, you can eat out of it, but He didn't say eat everything, so, my work too has to continue because it is one door that God has opened to me that I will say has blessed me, that I could say that I have a clear conscience. So, my faith has helped me there and also to stand for truth. Mama Adeboye is a spiritual mother to me.
I remember when I approached her that I was going to the Senate, she said 'make sure you stand for God.' I can never forget. Going for a second term, I have already gone to them, so, I have spiritual parents that I don't want to put to shame and I off course don't want to put my family to shame. So, I know what the faith entails me to do.
Gift of a platform
You can run away from man but you cannot run from God and whatever you do in secret, God will always repay you openly. By giving me a platform like this, I believe that God is still pleased with me.
I am not saying that I am a saint. All have sinned and come short of the glory of God. I have done some things I might not be proud of, but the more you know God, the more you begin to see your shortcoming that you will feel filthy at times.
That I shouldn't have done this if I had known better and that is what I have seen with people, because they don't know better and that is why the Bible says if you know the truth it will set you free. But I am free in the knowledge that if God is still making me relevant, that if I am voted back, I believe that He still wants to make use of me.
Vice-President Namadi Sambo has in the course of campaigns in the North tended to claim that your party is a Christian party and that the presidential running mate is a pastor with 5,000 churches…
You see, God has begun to turn their wisdom to foolishness. I rest my case!