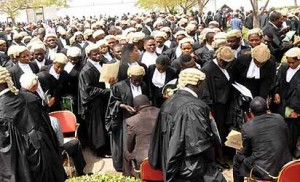 lagos—Three lawyers have dragged the Independent National Electoral Commission, INEC, before a Federal High Court sitting in Lagos, over their inability to obtain their permanent voter cards, PVCs. The plaintiffs said they were informed that their data were allegedly wiped off after they were duly registered and therefore, there were no PVCs for them.
According to them, despite the fact that INEC shifted the PVC collection date to March 8, they have no hope of collecting theirs because their data were wiped off from INEC's database.
The lawyers; Chijioke Emeka, Kalu Uduma and Emeka Odikpo, are praying the court to declare that their civil and legal rights would be breached if INEC fails to issue them their PVCs or provide them an alternative means of exercising their franchise.
They also want the court to declare that should they be excluded from the March 28 and April 11 elections due to no fault of theirs, they were not entitled to legal damages. The plaintiffs are also praying for an order directing INEC to issue them their PVCs or make other alternative arrangements to enable them vote.
According to them, their rights will be breached as a result of INEC's "negligence or mismanagement of its data-base or any other internal hitches," which resulted in the loss of data in the units in which they registered.
Trial judge, Justice Ibrahim Buba granted the plaintiffs leave to serve the originating summons on INEC in Abuja. The court also abridged to eight days the time within which the defendant may enter appearance in the suit. The judge ordered accelerated hearing of the suit in view of its urgency, and directed parties to file written addresses. The judge adjourned till March 16 for hearing.