ALARMED by seeming soaring popularity of his main opponent in the March 28 presidential election, President Goodluck Jonathan may have decided to personally coordinate his campaigns for the strategic election, which has already drawn global attention.
Saturday Vanguard learned last night that Jonathan was uncomfortable with field reports that he would have been defeated by Major-General Muhammadu Buhari (rtd) of the All Progressives Congress, if the election had been held on February 14 as earlier planned by the Independent National Electoral Commission (INEC).
To stem the tide of the perceived "Buhari momentum" and tilt the pendulum in his favour, Jonathan, it was gathered, has opted to drive some aspects of his campaign by himself by meeting relevant political groups and individuals considered very important for his victory.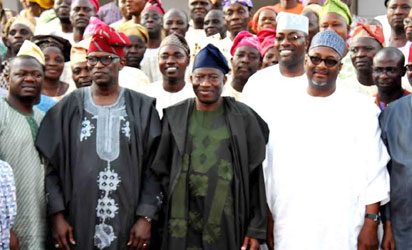 Personal touch
A source close to the new thinking in the Presidency, said that Jonathan had come to the realization that it would be better for him to be personally involved in the new phase of campaign instead of relying on emissaries, some of who have not been able to "deliver" despite being appropriately empowered to do so.
Ignores party chieftains in Lagos
Indeed, President Jonathan's visit to Lagos beginning from Wednesday did not include elders of the party in the state.
President Jonathan, as part of his visit itinerary, met with market women yesterday without any indication as of press time that he would hold meeting with PDP leaders and elders in the state with the state leader of the party, Chief Bode George said to be away in England.
A chieftain of the party, who believes that the President has not carried the state party structure along in his quest to woo and win the state, Mr. Lukman Abioro, wondered why people like Chief Bode George, General Tajudeen Olanrewaju and others were not part of the visit.
Another leader, who spoke under anonymity said, "Mr. President has done well enough for Nigeria but I think he can be more comfortable as second term President if he wins in Lagos. But he has been in the same Lagos for the past three days and we are not carried along."
Poor performing aides
The President was said to have been rattled by the discovery that many of the party leaders, who had assured him that they were fully in charge of their states and would deliver them to him, were far from delivering on their promise barely a few weeks to the crucial election.
Apart from the field reports, which were being sent regularly to him from each state, the president was said to have come face to face with the reality of the state of support for him when he visited the respective states to campaign.
A top source said that what the president saw in many of the PDP states, which gave him massive support in 2011, was far from encouraging and he decided to take an urgent step to salvage the situation instead of waiting for any of the governors or so-called political leaders from the zones.
"That is why the President is in Lagos to be able to woo as many South-West leaders and supporters as possible. I can tell you that although he went to Lagos officially to commission the four new war ships acquired for the Nigerian Navy, the underlying reason is to spend more time in the South-West and meet with relevant political entities and individuals who can help him out," a close source to the Presidency said.
It was learned that unlike before when aides of the president spearheaded meetings and discussions with those considered germane to his re-election, Jonathan will personally meet with key traditional rulers, top businessmen, community leaders and even former party leaders, who had defected to the opposition and could be swayed to work for him anywhere he visits from now.
Already, Jonathan's personal touch approach is said to have started yielding dividends with a host of some Yoruba leaders drumming support for him.
Unhappy with attacks on Danjuma
The source said that the president was also worried about the recent verbal attacks on General Theophilus Danjuma (rtd) by Nigeria Delta militants, fearing that the man, who personally rallied northern Christians and leaders for him in 2011, could be provoked by the insults to work against his re-election.
To visit Danjuma, Northern leaders
For that reason, Jonathan is said to have made up his mind to visit Danjuma and other northern leaders to personally plead with them to see reasons to still stand by him as they did in the last presidential election, which he won with ease.
A prominent northern leader told Saturday Vanguard yesterday that the assault on Danjuma by the former Niger-Delta militants did not go down well with most northerners, who have now decided to work against Jonathan, to retaliate the unwarranted attack on one of their leading lights.
Feuding media team
These developments came in the wake of alleged squabble among the President's Campaign Media team. The media team was said to have performed poorly prompting recent appointments. Still the team has incurred the wrath of some presidential aides for allegedly paying more attention to attacking personalities in the opposition rather than zeroing in on issues that could rake more support for the president.
It was not clear as at last night if some changes were in the offing to sharpen the campaign team and elicit more support for the president as the date for the election draws nearer.
– See more at: http://www.vanguardngr.com/2015/02/2015-jonathan-moves-to-stop-slide/#sthash.nGhIwxFr.dpuf