The PDP presidential candidate in the forthcoming polls, President Goodluck Jonathan, Friday night, decided to go spiritual as he made an appearance at the February Holy Ghost Service of the Redeemed Christian Church of God (RCCG) where he knelt down as the General Overseer, Pastor Enoch Adejare Adeboye, led the congregation to pray for him.
The occasion afforded the President to meet the APC vice presidential candidate, Pastor Yemi Osinbajo, who he greeted warmly with a handshake.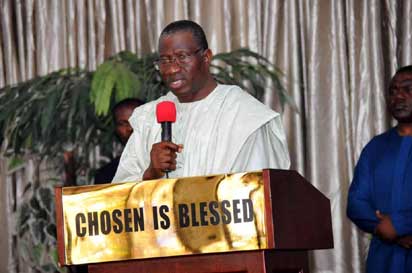 Yesterday, he was at the Lord's Chosen Charismatic Revival Minister, Lagos where he commended the leadership for praying against insurgency in the country.
In his brief remarks at the RCCG Redemption Camp, Jonathan said the purpose of his visit was to ask Christians not to relent in praying for peace to reign in the country, especially as we approach another round of elections.
He told the large crowd of worshippers that he didn't come for political campaign, noting that Adeboye will not allow his altar for political campaign.
When he finished, the General Overseer, often referred to as Daddy G.O. asked the congregation to pray for the president for divine wisdom, knowledge and understanding to lead the nation aright.
And the APC vice presidential candidate, Pastor Yemi Osinbajo, Senator Oluremi Tinubu and some others came out for the special blessing.
Speaking during his visit to the Lord's Chosen Charismatic Revival Ministries headquarters, Ijesha during its monthly crusade titled: "From Sorrow To Joy", yesterday, Jonathan said the intention of insurgents was to spread their activities to all parts of the country, noting, however, that it was the prayers of the religious bodies that restricted their activities to a portion of the country.
He said: "I am here because I quite appreciate what the General Overseer, Pastor Reuben Mouka, and members of the church are doing. You have been doing a great spiritual work that has helped not only the members of the church, but the whole country."