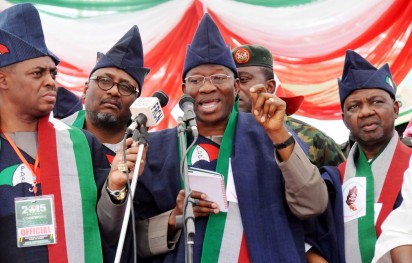 THE general perception amongst Nigerians, wrongly or rightly is that President Goodluck Jonathan's government is not fighting corruption with adequate vigor. As worrisome as such negative perception amongst Nigerians is, re -echoing such sordid views on corruption in Nigeria by foreign media organs amounts to double jeopardy not only for President Jonathan and the ruling political party,the PDP but for Nigerian economy and society as well.
Take for instance the article in LA Times of California, USA partly reproduced below "Regarding Nigeria, Washington continues to pledge counter terrorism support, without a public word to Jonathan about missing billions, even though the collapse of U.S.demand for oil puts American officials in a good position to exert leverage. Jonathan's finance minister gets a regular Washington platform to paint rosy pictures of her country's economy. The oil minister has not been sanctioned despite those gaps in the revenue she is supposed to be depositing in government coffers. And dodgy Nigerian banks retain correspondent relationships with U.S counterparts."
In the manner of a gifted pugilist determined to knock out an opponent,the writer struck a final lethal blow by concluding, a highly opinionated piece on Nigeria in a most cruel and cold manner with the following sentences: "lt's up to Nigerians to decide this month what kind of leadership they want for their country. But if American officials truly mean to address the root causes of terrorism – as both President Obama and Secretary of State John Kerry have proclaimed – a good place to start would be with corruption."
With such scathing remarks in the blistering article titled 'Nigeria's In-Your-Face Corruption Maybe Fueling Boko Haram Terrorism' written by Sarah Chayes, a senior associate at Carnegie Endowment, no one should be left in doubt as to whether or not election 2015 is about President Goodluck Jonathan and the odious corruption perception in Nigeria.
Evidently, the ruling party's effort to make proven accomplishments, capacity and ability to deliver dividends of democracy in terms infrastructure as reflected in the Transformation agenda of President Jonathan, the cardinal issues driving the presidential campaign has fallen flat as the main opposition party, APC has succeeded in framing corruption and to some extent terrorism as the reference point and template for deciding who should be voted for in the March 28 polls.
What is accountable for the foregoing conclusion is that APC has been literarily 'roasting' Jonathan on his alleged poor anti-corruption score card in the court of public opinion, particularly in the social media and by so doing, they have made their candidate, Muhamadu Buhari, the preferred choice for president. Reinforcing APC's position are allegations by former Central Bank of Nigeria, CBN, governors Sanusi Lamido Sanusi and Chukwuma Soludo that trillions of naira had been mismanaged by Jonathan's government, thus providing munitions for taking pot shots at Nigeria by the foreign publications.
Maximum damage
Interestingly, it was when APC's initial tag on President Goodluck Jonathan as 'clueless' failed to inflict the maximum damage required to make him unre-electable, owing to the remarkable progress made in the past six years in terms of delivering infrastructure, that the opposition rejigged its strategy to focus on corruption and insurgency which are perceived shortcomings of Jonathan's administration that resonates with and rile Nigerian hoi poloi who consider themselves the worst victims of corruption and terrorism.
Jaundiced views and propaganda: Latching onto such jaundiced views of Jonathan's government by the savvy APC propaganda machine, the globally influential Economist magazine in a recent editorial described President Jonathan as 'utter failure' while tapping Buhari as the 'better alternative' even if he has 'blood' in his hands.
Thankfully,the highly rated Financial Times, FT, in her analysis has not been reliant on second hand information gathered from Nigerian media sphere which APC has completely polluted with 'most corrupt' government mantra against President Jonathan. Rather FT was less uncharitable by concluding that Buhari's supporters stick with him without altruistic justification just as Jonathan's supporters also lack justification for their unconditional support. In my view, FT's analysis is a fair comment as none of the supporters on both sides of the divide seem to be basing their choice on universal good governance principles but on ethnic emotions, religious sentiments and vested interests.
The question now is how can Jonathan's government wean itself of this unenviable reputation of corruption? One clear reason for the current sorry state of affairs is that Jonathan is yet to publicly declare a road map or blue print for a war against corruption.
Road map on corruption
After six years on the saddle, why is there no Federal Government road map on corruption like the road map on electricity power and automotive policy amongst others which have been well packaged, widely known to most Nigerians and are currently being implemented? The unsavory situation is further exacerbated by some goofs and gaffes that have been attributed to President Jonathan especially in the course of his campaign reinforcing the perception that the current government is feeble in its stance against corruption.
There are a few of such instances in the media space but a couple of examples would suffice: In refuting the allegation of not fighting corruption (Washington Consensus style) like his predecessors who paraded culprits before the media for public assassination before clamping them in prison, Jonathan reportedly asserted that petty stealing is not corruption which engendered a lot of public opprobrium towards him. Of course, the opposition choose to misunderstand him and capitalised on the ambiguity to disparage him for condoning corruption. During his campaign stumping in Enugu, he was alleged to have also told his supporters that their hero, the late Jim Nwobodo was jailed by his opponent, Muhamadu Buhari, for 200 years for allegedly stealing a sum of money not up to the price of a Volkswagen beetle car.
Although the remark resonated amongst the people of the South east who regard Nwobodo as their hero, it equally attracted sneers from the opposition who interpreted it as a reaffirmation of his complicity in the growing corruption perception in Nigeria. Another alleged remark by Mr. President is on the increased numbers of private jets (PJs) in Nigeria, now in excess of one hundred and fifty (150) which he said is reflective of the growth and expansion of Nigerian economy under his watch as opposed to the notion that it is emblematic of the high level of corruption in Nigeria.
Subject of discussion
With local content bill introduced by him in 2010 enabling Nigerians retain 30% of oil industry generated income locally,there could be justification for more Nigerians being jet set(a subject of discussion in another article) but the average Nigerian does not share such opinion.These and related ambiguities by other senior officials of this administration might have consolidated the belief in some quarters that Jonathan is acquiescing with rogues.
In this season of political anomie whereby office contenders are striving to present themselves as angels and their opponents as demagogues, any unqualified statements such as the aforementioned ones credited to President Jonathan are bound to be twisted to exert maximum damage to his image and personality which is why Mr. President and his handlers should have ensured that all his statements are qualified, unambiguous and put in proper context. As it now stands,by not developing a road map against corruption and not observing the simple rules of public speaking, Mr. President has inadvertently set himself and his government up for the negative labeling as the most corrupt government in Nigeria.
Such an ugly perception is palpable to the extent that former military president, General lbrahim Badamasi Babangida, IBB, whose regime had held the unenviable record of being the most corrupt for nearly thirty years, stated that the level of kleptomania in government today, makes officials under his watch look like saints. Even Justice Mustapha Akanbi, former ICPC chairman and judiciary icon stated in a recent media interview that the fact that governors and other top government officials are no longer being arrested, arraigned and jailed like in the past indicates that the present government is not fighting corruption.
Although, it is rather late as election date is barely a few weeks away, there are some remedial measures that can be taken to avoid or defray the associated ruin from misquote or misinterpretation of comments by Mr. President that makes him look like he is in cohort with looters of our patrimony. First thing to do is to simply, strategically package and disseminate President Jonathan's anti corruption blue print or if you like,road map before it is too late.
Remedial measures
The role of planning in all aspects of life can not be overemphasized hence it is necessary to refer us to the popular maxim 'what is not planned can not be measured'. Put succinctly, if President Jonathan does not make Nigerians aware of his anti corruption strategy, how would the public measure his accomplishments in that respect?
Whereas, it has been whispered that Mr. President has a plan against corruption, most Nigerians are unaware hence members of opposition parties refer to our President Jonathan's government as most corrupt and such negative appellations stick because there is no existing blue print in the public arena to prove otherwise.
For a government that is embarking on a paradigm shift with respect to how it conducts its anti corruption crusade with emphasis on prevention, which they say, is better than cure, the new concept should have been articulated and sold to the stakeholders long ago so that they can key into it.
Similar wisdom and effort underpinning the establishment of the national electricity power master plan resulting in the unbundling and privatization of PHCN and national automotive policy or road map for local assembly of vehicles in Nigeria amongst others which were articulated, widely publicized and are now being implemented, should have been applied by President Jonathan in pursuing his new anti corruption stance which is a major paradigm shift from the old school, naming-and-shaming of culprits approach of which Nigerians are accustomed. Why leave such a gap?
Until Mr. President revealed during the flag off of his campaign in TBS, Lagos most Nigerians had no idea that it was the efficacy of the new technology driven payroll system which is programmed to shut down if and when there is a threat or breach of the normal protocol that led to the delay in payment of December salary to some civil servants. This implies that the issue of corruption which is such a critical element that has acquired huge significance in governance and now the fulcrum of the current presidential campaign is being paid attention by President Jonathan but dissemination of the strategy is not given a pride of place hence the negative perception of his government as corrupt both locally and internationally.
Notorious pension funds
Arising from the above stated lapse, many Nigerians and foreigners were unaware that by deploying technology, billions of naira has been recovered from ghost workers hitherto on government pay roll (66,000 thereby saving about N140b) just as the notorious pension funds thieves have been reined in via the adoption of technology which has reduced interaction between man and revenue while increasing man to machine interaction. Minister of Finance and Coordinating Minister of the Economy, Ngozi Okonjo-Iweala has re-emphasized these points since Mr. President mentioned it at his inaugural campaign rally in Lagos, but the message needs to be systematically packaged like other programmes and initiatives of government.
Some cynics may scoff at such baby steps taken in checkmating ghost workers and reining in pension funds thieves as enunciated by Okonjo-Iweala, but as the saying goes "Rome was not built in a day" So modest steps, matter. Having 'busted' as it were, the oil subsidy scammers via the series of public probes resulting in the reduction of cost from N971 billion in 2014 budget to about N620 billion in the proposed 2015 budget, expectedly technology would also be applied in routing the increasingly brazen crude oil thieves. Remarkably, Minister of Petroleum Resources, Diezani Alison-Madueke has recently in a media chat reported a drop in crude oil theft from an all time high of about 400,000 barrels a day to about 60,000. That too is a huge relief.
Already, the USA navy retired war ship,recently gifted to Nigerian navy for deployment in the Gulf of Guinea is helping combat piracy – oil theft inclusive – in the Niger Delta. Further more, Mr. President recently, also commissioned four newly acquired vessels for the navy to protect Nigeria's territorial waters of which crude oil is a major component. In the coming days or months, the application of other technological devices such as cutting edge scanners to monitor pipelines and other critical oil/gas infrastructure from where the thieves siphon the products, would help stem crude oil theft that Sarah shayes copiously referenced in her odious article.
Although, a rather late release of the forensic audit report penultimate week by the accounting firm PriceWaterHouseCoopers on the alleged missing $20 billion in NNPC revealed that it was a mere fabrication of the author that such humongous amount was stolen, however, some royalties and signature bonuses were actually yet to be accounted for and oil minister, Alison-Madueke has ordered a refund of $1.48 billion which the auditing firm identified as unremitted to the public coffers. Nevertheless, public perception of President Jonathan's government as epitome of corruption might have ebbed but not really wiped off, so a lot more needs to be done to correct the wrong impression by enlightening Nigerians on the new paradigm shift. In conclusion, President Jonathan at the rally earlier referenced, told the cheering crowd in Lagos that he does not subscribe to the concept of arresting his political enemies or perceived corrupt people and parading them under media klieg lights and thereafter clamping them in jail as his predecessors did to gain public accolades. Rather, he prefers to apply technology to prevent thieves from dipping their sticky fingers into our treasury.
Brick and mortar practice
Such new thinking is noble and a welcome development because having been applying the old brick and mortar practice of arresting and jailing corrupt politicians and civil servants since the days of late General Muritala Mohammed who via a coup d'état ousted General Yakubu Gowon as military head of state on corruption charges while convicting most of the military Governors, ministers and so called 'super' permanent secretaries, the malaise of public service corruption has not abated.
Even after several coup d'état were staged on same allegation of corruption from the period of General Olusegun Obasanjo who took over from Murtala Mohamed and handed over to Shehu Shagari as democratic president, who latter got toppled via another coup d'état by General Muhamadu Buhari in December 1983 on the same allegation of corruption. As such, it may be time to change the old approach to fighting corruption and try a new method. That may be the change Nigeria needs, not the change from Jonathan to Buhari which APC is orchestrating.
As a matter of urgency, President Jonathan must come to the realization that he owes Nigerian voters the duty of showcasing his anti corruption road map and while doing so explain to them how efficacious the new approach is;how much has been recovered through the much vaunted Ministry of Finance Integrated Payroll System and how the new approach would be deployed to stem the tide in other corruption ridden sectors such as oil/gas where it has assumed crisis dimension.
This would enable him stave off the current negative perception as the most corrupt government in Nigeria and salvage his badly savaged image which is sticking out like a sore thumb and a huge drag on his re-election bid.
Magnus Onyibe, a development strategist and futurologist sent this piece from Abuja.