Idolised by fans as the Peoples General, Chief Great Ogboru had become a rallying platform for opposition to the Peoples Democratic Party, PDP in Delta State. He had in the last decade moved across different political platforms in his quest for the governorship of the state – South-South Rainbow Coalition, SSRC, then the Alliance for Democracy in 2003, the Democratic Peoples Party, DPP in 2007 and 2011, and now Labour Party, LP . Ogboru has continuously captivated popular imagination in Delta, yet has underperformed at the crucial point of counting the votes. Ogboru has, however, pleaded the alibi of rigging.
Given his marital and maternal linkages across the three senatorial districts of the state, and the uprooting of those factors he claimed had conspired against him in the past, Ogboru is asserting himself as the candidate to beat in the forthcoming governorship election in Delta State. Last Wednesday Ogboru alongside some Labour Party candidates and the leadership of his campaign was the guest of Vanguard Editors. He drew questions on his past political participation, plans and his claimed pan-Delta agenda. Excerpts:
By Emmanuel Aziken, Political Editor, Dapo Akinrefon, Charles Kumolu & Gbenga Oke
What new thing do you have that is pushing you to contest again?
What we have been doing in Delta state apart from creating opposition in the state for good reasons, is also making sure that the people of Delta have an alternative, and that alternative comes from our leadership. We believe that we are giving them good leadership because they continue to follow us. If when we came in 2003 and 2007 and were roundly rejected, we would not have come in 2011.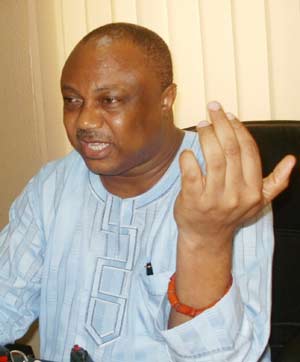 We have made significant progress. We had about 11 members elected to the State House of Assembly, we had a Senator elected and we had about two members elected to the House of Representatives. That is significant progress.
In a proper and conducive environment, I would have said that our party would have been a very strong platform on which to leap in the 2015 election, but unfortunately, those dreams were filtered away because of the type of politicking that we practice.
Nevertheless, the gains that we have made, the consciousness we have created in the society, make it imperative for us to continue for as long as the people demand our leadership. When they reject us, we will gladly bow out and say thank you we have done our beat. But as it were, until the people say no, I do not see how we can surrender. That is why we have been in this business.
What are you offering Deltans and why should they vote for you this time?
Not very much has changed in terms of the social, economic and political environment in the state. What we are bringing to the table is that healthcare and medicare will be largely improved, we are going to ensure that hospitals begin to function, our schools are going to be better. Of course, we will create an enabling environment for businesses to thrive.
Enabling environment
I have heard about this 'enabling environment' in so many economic circles, but most of it is lip talk. My party and the leadership I want to bring to the state will be more of an interventionist agency. Interventionist in the sense that development and growth will be witnessed.
To a large extent, we will partner with the people because we know that access to capital is difficult, we will partner with them to provide the necessary capital and the necessary technological skills for them to be able to participate in an economic environment.
One key project that we will do is to create a public company for each of the senatorial districts. A public company that will specialize in the provision of social services.
That public company will be owned by the people of Delta. All the shares of the companies will be controlled by the indigenes of the three senatorial districts. These companies will not be ordinary companies, they will be owned partially by foreigners.
We told you in 2011 that we have a concept that is called the EODI, which is the Equal Opportunity Development Initiative and we told you that N100m will be set aside monthly for each local government for developmental purposes. This is 2015, we are developing this concept. If we are to give nine local governments N100m each for instance for development and the company is owned by the people of Delta state, there is a certain amount of profit that the company must make because it is a limited company.
Wealth creation
By doing so, you are creating wealth for the people of Delta State. I think that when that is done and replicated over time, the trickle down effect of that will mean that you have better roads, better schools, better hospitals and better housing. With this programme alone, we can engage the people of Delta State over a period of time.
If this programme works the way it is envisaged, we are going to take crime off the streets of Delta State because when the people have access to capital, good schools and good roads, the most likely tendency is that people will stay away from crime.
You claimed to have won the last elections in Delta State but was not declared. How are you going to protect your vote this time?
Our votes have always been protected and that is why we were able to get 430,000 votes. You do not have 430,000 votes in an election if your votes are not protected. The problem is the riverine communities in Delta State which we were not able to handle properly.
So, those riverine communities became challenges in the sense that even the police could not provide security and I can tell you that most INEC officials could not even get there. That is why I questioned how these card readers would be used.
What happened then was that whereas we won the upland in most of the state, those riverine votes were brought to defeat the will of the people of Delta state.
That was why I was I not declared, but the times have changed, the dynamics have changed, the complexities changed, the actors are different.
Enemies of yesterday
So enemies of yesterday are friends of today and when all of these complexities are put together, it tells you that some of those votes that worked against us in the past will work for us now.
Have you had any reconciliation with Governor Uduaghan especially after the PDP primaries?
This question is always coming to me because Uduaghan was short-changed during the primaries. I think he is getting a pill of what they have been doing to me. I was glad when I met him recently in a very warm embrace.
And when he spoke to us, he said he was at peace with himself. And if you were there, you will know that we had not met prior to then.
If we had met, his behaviour would have been different. There is no discussion going on between us anywhere behind the scene.
Uduaghan knows that Ogboru is the elected governor of the state but things did not go well the way they should go. On a personal note, we are friends and in-laws too. While all these are going on, you have to understand that there is a human relationship between us.
When we took him to court, we were duty bound to do so. That is the name of the game. Sometimes when you are fighting with your brother, you also wish that you don't give him a killer punch because the punch could be so devastating that he may never recover from it.
So, have you been able to resolve the challenge from the riverine areas? Also, what is your role in the present crisis rocking the Urhobo Progressive Union, UPU?
I believe that we have a very strong support from the Ijaw and Itsekiri communities today. That support was not there yesterday, but like I said with the stage and the actors being different, the dynamics must be different.
So, the differences are working for our good and I believe that when the election takes place, those toxic votes will come to us. Whatever vote that will come from the riverine communities, will be in our favour. Our followership there is enormous.
But Tompolo is believed to be a PDP chieftain and is Ijaw?
We are not bothered about that. We are going to defeat Tompolo in his local government. The only place he will win is Gbaramatu.
Women in the congress
The place we are likely to have some challenge, is Burutu where the deputy governor comes from. But because Tompolo is a factor that is being rejected, I believe that his candidate will be defeated.
On UPU?
The UPU is an organisation that has lasted for over 83 years. It is older than the Nigerian nation. The UPU has a constitution as to how to become the president general of the association.
The president is elected by all the president generals, youths and women in the congress. In this case, because you were supporting somebody else, you decided to create a faction.
Unfortunately for the Onoge group, if we were to conduct an election in the state, the UPU candidate will not get 10 percent of the votes. It is a two horse race.
– See more at: http://www.vanguardngr.com/2015/02/my-time-has-come-ogboru/#sthash.Z50UiAYY.dpuf