The All Progressives Congress, APC, Presidential candidate, General Muhammadu Buhari (retd), yesterday, in London gave a speech at the at the Chatham House on Prospects for Democratic Consolidation in Africa: Nigeria's Transition. Listed below are some of the most striking quotes from Buhari's speech.
I cannot change the past. But I can change the present and the future.
'I am a former military ruler and a converted democrat.'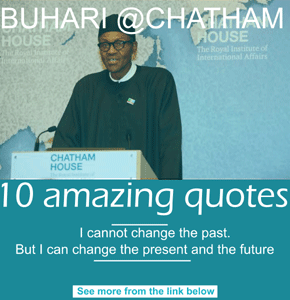 I have heard and read references to me as a 'former dictator'…I take responsibility for anything that happened under my watch ½
'Two things have bloomed in the present administration: waste and corruption.'
'Because of the greed, profligacy and corruption, Nigeria's 'wealth' has not translated to human development.'
Read the full speech here
'I assure you, if I become president, the world will not have to worry about Nigeria as it is now.
To vote for the continuity of failure or to elect progressive change. I believe the people will choose wisely
Any war waged on corruption should not be misconstrued as settling old scores or a witch-hunt. I'm running for President to lead Nigeria to prosperity and not adversity.
As you all know, I had been a military head of state in … But the global triumph of democracy has shown that another and a preferable path to change is possible.
On corruption, there will be no confusion as to where I stand. Corruption will have no place and the corrupt will not be appointed into my administration.