LAGOS—The All Progressives Congress, APC, Presidential candidate, General Muhammadu Buhari (retd), yesterday, in London gave reasons why he wants to be president after he left office as military Head of State.
He said he is in the race to restore the country's glory. Buhari said: "I cannot change the past, but I can change the present and the future. So, before you is a former military ruler and a converted democrat who is ready to operate under democratic norms and is subjecting himself to the rigours of democratic elections for the fourth time."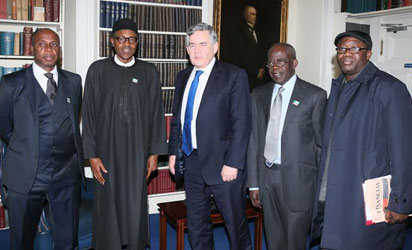 Meanwhile, there were protests outside Chatham House where General Buhari was delivering his lecture by his supporters and those opposed his candidacy.
Buhari, who spoke at the Royal Institue of International Affairs, London (Chatham House) in a paper entitled "Prospects for Democratic Consolidation in Africa: Nigeria's Transition," said that he wanted to be president in a democracy "because the work of making Nigeria great is not yet done."
The former Head of State said that one of his major priorities as president was to fight corruption in all its ramifications, pointing out that no corrupt person would be appointed into his cabinet.
He further said that he would block all the leakages in the Nigerian National Petroleum Corporation, NNPC and the Customs & Excise which were the major cash cows for the nation and use the proceeds recovered from corrupt people to fund "our party's social investment programmes in education, health, and safety nets such as free school meals for children, emergency public works for unemployed youth and pensions for the elderly.
"But I must emphasise that any war waged on corruption should not be misconstrued as settling old scores or a witch-hunt. I'm running for President to lead Nigeria to prosperity and not adversity…"
According to him, "the institutions of state dedicated to fighting corruption will be given independence and prosecutorial authority without political interference.
"You may ask: Why is he doing this? This is a question I ask myself all the time also. And here is my humble answer, because I still believe that change is possible, this time through the ballot, and most importantly, because I still have the capacity and the passion to dream and work for a Nigeria that will be respected again in the comity of nations and that all Nigerians will be proud of."
Commenting on the reference made to him by British newspapers as a former dictator, Buhari further said: "Dictatorship goes with military rule, though some might be less dictatorial than others." He said that he took "responsibility for whatever happened" under his "watch," as Head of State.
He also promised to lead the way with force of personal example, especially in tackling waste and corruption.
No inch of Nigeria's territory'll be lost
Apparently referring to the challenges facing the country following the Boko Haram insurgents, which had been ravaging the north-east in the last few years, he said that "no inch of Nigerian territory will ever be lost to the enemy" if he is elected president.
"As you all know, I had been a military head of state in Nigeria for 20 months. We intervened because we were unhappy with the state of affairs in our country. We wanted to arrest the drift. Driven by patriotism, influenced by the prevalence and popularity of such drastic measures all over Africa and elsewhere, we fought our way to power. But the global triumph of democracy has shown that another and a preferable path to change is possible. It is an important lesson I have carried with me since, and a lesson that is not lost on the African continent.
"While you can't have representative democracy without elections, it is equally important to look at the quality of the elections and to remember that mere elections do not make democracy. It is globally agreed that democracy is not an event, but a journey. And that the destination of that journey is democratic consolidation – that state where democracy has become so rooted and so routine and widely accepted by all actors.
"With this important destination in mind, it is clear that though many African countries now hold regular elections, very few of them have consolidated the practice of democracy. It is important to also state at this point that just as with elections, a consolidated democracy cannot be an end by itself. I will argue that it is not enough to hold series of elections or even to peacefully alternate power among parties.
"It is much more important that the promise of democracy goes beyond just allowing people to freely choose their leaders. It is much more important that democracy should deliver on the promise of choice, of freedoms, of security of lives and property, of transparency and accountability, of rule of law, of good governance and of shared prosperity. It is very important that the promise embedded in the concept of democracy, the promise of a better life for the generality of the people, is not delivered in the breach," he added.
Boko Haram
On insurgency, he said: "Boko Haram has sadly put Nigeria on the terrorism map, killing more than 13,000 of our nationals, displacing millions internally and externally, and at a time holding on to portions of our territory the size of Belgium. What has been consistently lacking is the required leadership in our battle against insurgency. I, a retired general and a former head of state, have always known about our soldiers: They are capable, well trained, patriotic, brave and always ready to do their duty in the service of our country.
Nigerian soldiers capable
"You all can bear witness to the gallant role of our military in Burma, the Democratic Republic of Congo, Sierra Leone, Liberia, Darfur and in many other peacekeeping operations in several parts of the world. But in the matter of this insurgency, our soldiers have neither received the necessary support nor the required incentives to tackle this problem. The government has also failed in any effort towards a multi-dimensional response to this problem leading to a situation in which we have now become dependent on our neighbours to come to our rescue.
"Let me assure you that if I am elected president, the world will have no cause to worry about Nigeria as it has had to recently; that Nigeria will return to its stabilising role in West Africa; and that no inch of Nigerian territory will ever be lost to the enemy because we will pay special attention to the welfare of our soldiers in and out of service; we will give them adequate and modern arms and ammunition to work with, we will improve intelligence gathering and border controls to choke Boko Haram's financial and equipment channels, we will be tough on terrorism and tough on its root causes by initiating a comprehensive economic development plan promoting infrastructural development, job creation, agriculture and industry in the affected areas.
"We will always act on time and not allow problems to irresponsibly fester, and I, Muhammadu Buhari, will always lead from the front and return Nigeria to its leadership role in regional and international efforts to combat terrorism…"
Buhari, Jonathan's supporters protest in London
Before Buhari arrived the venue for the event, some protesters had gathered in front of the venue carrying placards and chanting songs in protest against the APC candidate.
The anti-Buhari demonstrators had placards with inscriptions such as "Buhari Belongs to the past: The past can't belong to the future of our children"; "A dictator hiding behind another pastor cannot be a democrat", and "Nigeria will not return to the past."
However, pro-Buhari supporters had also mobilised to confront the the PDP supporters during which a verbal clash erupted.
The pro-Buhari elements had placards bearing messages such as "Nigerians deserve better than 16 years misrule," and "Vote Buhari/Osinbajo."
Officers of the Metropolitan police who patrolled the area, however, calmed frayed nerves between the two camps.
The media had reported ahead of the event that the Nigerian government had earmarked $20,000 to hire protesters in London against the APC presidential candidate.
A memo entitled "The Chatham House Rally: March Against Dictator," which emanated from the campaign's Assistant Director, Civil Society and Support Groups (Diaspora), Peter Mozie, said the money would be spent on mobilising the crowd, refreshing them and defraying other logistics.
Meanwhile, the spokesperson of the Peoples Democratic Party Presidential Campaign Organisation, Femi Fani-Kayode, denied mobilizing protesters to embarrass Buhari at the event.