The APC Presidential Campaign Organization, APCPCO, has alleged that the Presidency is planning to present before Nigerians a fake Boko Haram leader in its effort to show Nigerians they are winning the war against terrorism.
The party also alleged that credible sources have alerted APC that the fake Shekau might become a tool to blackmail members of the opposition by coaching the phantom terror Boko Haram leader to say he is working for General Muhammadu Buhari (retd).
In a statement by the Director of Media and Publicity of APCPCO, Mallam Garba Shehu, he wondered where the 'new Shekau' will come from after government at several times in the past announced that they had killed the insurgents' leader.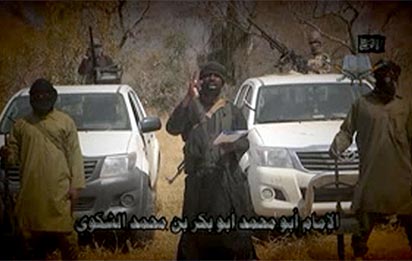 He said: "The charge to the military that they should catch Shekau alive by the President in the last 24 hours lends credence to the report that indeed a fake Shekau is about being created and we want to assert that the profile of the leader of the insurgents presupposes that the man is not likely to allow himself to be caught alive.
"APCPCO recalled that the attack on General Muhammadu Buhari in Kaduna was seen and believed by most Nigerians that it was perpetrated by the Boko Haram and the police that is constitutionally empowered to investigate such incidents has not contradicted the widespread belief that this was a Boko Haram attack.
"The view of APC is that it does not make sense for Buhari to be in league with or be associated in any way with people who have set out to kill him.
"Unfounded allegations linking the opposition to insurgency amounts to leaving the issues to pursue personal attacks as warned against barely 24 hours ago by leaders of the Catholic community in the country through Arch. Bishop John Onaiyekan."
Quoting President Jonathan's recent confession that he under-estimated Boko Haram, the APC presidential campaign said the admission was a direct evidence that President Jonathan had nothing to offer and must bow to the wind of change.
He said: "President Jonathan is out of touch with the realities of the lethal challenges posed by global terrorism including Boko Haram, which is affiliated to Al-Qaeda global terror network.
"For any President to under-estimate terrorism, it means that he does not take any national challenges seriously, including health, poverty, unemployment, power, education, infrastructure."
The APC presidential campaign organization said President Jonathan had passed a vote of no confidence on himself and his government.