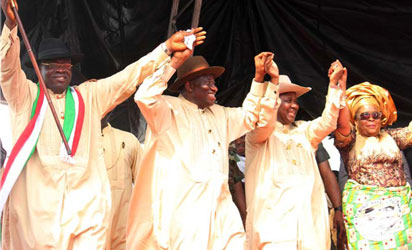 •'It will be Jonathan all the way in N-Delta'
•Explains how he relates with First Lady Patience
Governor Seriake Dickson of Bayelsa State, in this interview, opens up on the meeting in Government House, Yenagoa, which has triggered controversy that some former Niger Delta militant leaders, including Alhaji Dokubo-Asari are spoiling for war in the event that President Goodluck Jonathan loses the forthcoming presidential poll.
Being the governor of a state where the president comes from has so many challenges. What are these challenges?
Being the governor of any state comes with its own challenges. You should ask me my take, how I feel, having been governor for three years now. I will describe it in three words: exciting, challenging and fulfilling.
Let's start from the first one. How is it exciting?
It is exciting because it is an opportunity to directly impact directly on the people. With God being on my side, it also gives the opportunity to leave lasting legacies. I believe in impact. I believe that it is not really a question of how long you serve or how long you occupy a particular office but the degree to which you impact your society positively. When you do so, then it becomes exciting. Anytime I go round Yenagoa and I see the life-changing projects I initiated and have come on stream, a number of them completed, when I see the impact of our programmes on young people, prospects of families, children going to school abroad on scholarships, the hospitals and schools we built, I feel excited by that opportunity. Fulfilling. Again because once all of that is done, you feel accomplished in a way, at least in that specific aspect to yourself and to your God. Challenging, as I said because being a governor of any state at all comes with its own challenges; challenges arising from expectations, challenges arising from the politics of the job, the managing all of it, the interplay of politics and the society comes with its own challenges.
Coming from the same state with the president comes with its peculiar challenges. If things are not going so well at home, people will tell Mr. President that 'things are not going well in your home state'. Looking at the situation in the Niger Delta and the situation in Rivers State, the home front ought to be well secured. From your own point of view, what are these obvious challenges?
Well, Bayelsa cannot pose any challenge to the president. It is safe for the president. I don't think there is any rational person in Bayelsa who will not support the president for second term, who will not do his utmost to support his re-election bid. I interact with everybody. That is my duty to mobilize the home front and keep it safe as it is today.
I can report that Bayelsa is safe for the PDP. Bayelsa is safe for the president. I am aware that there are some distractions here and there, mine is to stay the course, not to be distracted, in order not to give in to those distractions and temptations. We are bent on keeping the family safe, making the state a secure PDP base. I know that our former governor, my immediate predecessor, is in APC. He is more or less a leader in APC. But the APC does not have any following that could threaten us in all our elections, particularly, Mr. President's re-election.
You talked about Rivers State. Yes, the situation in Rivers is not ideal. It is not what we would have wished for,. But it is a political reality we are managing. The president's re-election, I don't think, in Rivers State, it will pose a big challenge. We are likely to do as well as we did last time. Working hard, the party is doing well. People understand the issues at stake.
They understand that the stakes are very high, as far as the presidential poll is concerned. And coming from where we are coming from as a people, as Ijaw people, as Niger Delta people, I know that people are likely to look beyond personal grievances and things like that and focus on fundamental issues, as to why President Jonathan should be re-elected.
Talking about Bayelsa, talking about the entire Niger Delta, for the presidential poll, it is going to be Jonathan all the way. It is going to be PDP all the way. Maybe as you go down to the local elections, where the stakes are much lower and far more localized, you could have some divergent views one way or the other. As far as the presidential poll is concerned, Bayelsa, no shaking, particularly with me there.
What is the nature of your relationship now with the First Lady, because if you read in the papers, you refer to challenges and distractions. I am talking of the political relationship between you and the First Lady. Secondly, your state Chairman of PDP has just been sacked. And he has been saying that his sack has nothing to do with finance but local politics because he was not ready to move with people who were close to the First Lady. What exactly is going on in Bayelsa. You are talking about Bayelsa? being safe but all the undercurrents we are reading in the media indicate that the state is not as safe as you are projecting?
First of all, before I talk about the state PDP Chairman's response to the problems he is having with members of his exco, let me say that when I say PDP is safe, what I mean is concerning the presidential election. There is nobody in Bayelsa, except very few people, who will not willingly come to vote for the president, majority, 98 per cent.
Even with the crowd we saw at the APC rally, and you still say 98 per cent?
That was rented crowd and that is why I instructed the security people to provide protection for the APC people. And I also directed my team to get a safe venue for them to campaign. I knew that APC does not have a large membership that can fill a stadium for example.
They applied for a small venue. But it was a primary school field and schools were in session and I knew that they would bring in cult elements, young boys and so on, unruly, unmanageable crowd. What you saw was just people picked along the streets and very few committed party men. I don't even know the leadership of APC beyond the fact that my predecessor is there and he is running an election and two former local government chairmen under his tenure, who I sacked.
They are the only members of APC in the state that I know. Beyond that, I do not know any other prominent politician that was in the APC rally. That rally, they just picked about 1,000 to 2,000 young boys from the streets, markets and fixed their camera there to give an impression of a sizeable rally. Rallies are not very often, as all politicians know, a good indication of how well a party can do. So, APC has no presence at all.
You may have a situation where one or two people would disagree with me and yet, they will work for the president. It is to that extent that I am saying that Bayelsa is not a problem as far as the presidential poll is concerned.
Now coming to your specific question on my political relationship with the First Lady, you know we are Africans and African values that we espouse do not allow me to discuss my boss' wife, particularly publicly, on the pages of newspapers. I have resisted the temptation to do so. If I were to do so, there would be no difference between me and, maybe, some other people.
What I can say is that she is our wife, she is our sister and she is a mother. I play politics with her husband. And he political relationship that I have with my boss and my elder brother, the president, is excellent. I am doing my best to protect his interest and advance the cause and development of our dear state, a state I know he also dearly loves. Remember when he was the governor, I was in his cabinet.
I know the passion he also has for the development of our state. And as president, he has always given me support on any issue that has to do with the development of our state. So, I am concerned about that and happily that whatever reports that are going round, despite what the propagandists are doing, it is not affecting our relationship. I am okay with that. I will work hard by the grace of God to keep it so.
Talking about the PDP state Chairman, it is unfortunate if he said so. I don't believe that my party chairman will say so. He has not seen me since his disagreement with his exco members. And I expect that he should see me to let us know what the issues are, so that we can address them. But I don't believe the reports credited to him. Those reports are not true, they are not correct.
For the first time in the present democratic dispensation, we are going into an election in which the incumbent is not too sure of victory despite that he had massive goodwill when he came on board. What do you think is responsible for this?
Well, I don't agree with you that the president is not sure of victory. The president is very confident that he will win. We in the PDP are very confident that we will win. And the reason is simple. We have been in the trenches for sometime. For a politician contesting an election, there are three elements that are critical: The party, which is the platform, you talk of the candidate and the policies and programmes out there.
Of all of these, the candidate is important and the party is also important. The candidate's party is the warhorse. If the horse is strong, anybody can ride it to victory. But if the platform is weak, no matter how good a candidate is, it will collapse. Just like a good warrior can ride on a sick horse and lose the battle. Our platform is strong; our platform is tested. Are we as strong as we were in the last general election? Probably slightly weakened. But there is no argument that our platform is strongest, our platform is more national, our platform is tested.
The other platform hasn't got our resilience, hasn't got our real battle experience. I am talking of APC. It is an amalgamation of several tendencies. That's commendable anyway, I give them credit for coming together. Without legislation, we now have two strong parties. We should give them credit. They have done a lot of good work, which is good for our democracy. But then, we must also accept that it (APC) is largely an untested warhorse on the national stage.
We can point at 1999 where even a candidate didn't even have support from his ward, his local government, his state and even his entire zone. His entire zone voted against him in 1999 but PDP still got the president elected. I believe that the PDP was weakest at that moment, not now. So, we are very confident that our platform remains the platform of choice and the platform to beat. Look at the second factor -the candidate. If you put our incumbent president, with the resilience he has shown, the democratic temperance that he has exhibited because that is critical, we are running a democracy.
A president under a democracy, there is a whole lot of difference between him and some guy who runs a military junta and whose word is law. Here, you have got to navigate your way, negotiate with stakeholders, interact with the National Assembly and other institutions. Your views, opinions and actions would be challenged and tested. That is the democratic furnace through which every politician must pass. So, in the face of unprecedented terror in our country and the distractions arising from that, our president has kept focused. Are things ideal?
We will also admit they are not. But none of us imagined in 2011 that we were going to deal with an unprecedented terror situation in our country. But it is a reality we must live with and deal with also. So, our president, the candidate, is also several times better, far more reassuring, far more suitable in a democracy. And you cannot compare.
It is like an analogue and a digital product. Talking of youthfulness, talking of educational background, talking of democratic temper and capacity to meander and then interact with the democratic stakeholders to achieve results, talking about the policies and programmes, we believe that the message of transformation, in all sectors, has been delivered. Again, we also admit that in the last five years, he has not been able to solve all the problems. We realise we must deal with corruption.
We realise that we must intensify the war against terror. We also admit that we are all Nigerians. We must improve the economy. Yes, but is the answer with the opposing party and its candidate? Do they have a magic wand to stop terrorism, to turn around the economy?
No. So, we are not afraid. The president is not afraid. We in the PDP are rather very confident that we will deliver because we exist in every polling unit. We exist in every ward. We have candidates fielded in all these elections. And if we could elect a president who lost his ward, his local government, his state and his zone, you should know that that kind of party; even with the loss of some governors, that kind of party will always have the capacity to win free and fair general elections. After all, we are a party of free elections.