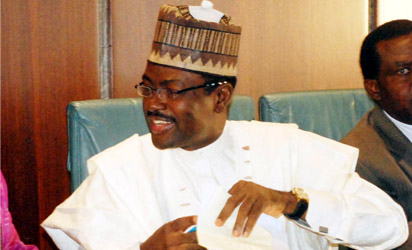 The emergence of Labaran Maku from the majority tribe under a political party you classify as a minority party (APGA) in Nasarawa State has become a threat to the big political parties: APC and PDP. In this interview, the former Minister of Information and governorship candidate of APGA in the state says he survived the plots by the PDP and APC to truncate his ambition and political career.
What multivated your move from PDP to APGA?
From the beginning of my political in 1998, I have been in the PDP. I never planned to dump the PDP. I have been a loyal member in Nasarawa State and even when God lifted me, through President Goodluck Jonathan, who is my leader and mentor, to be a minister, I gave the party all my loyalty in all the offices I occupied. I used my resources to also build the party right from the ward to local government, state and the national level. I was never found wanting in my loyalty to the party all the while.
As a person, whenever I want to do anything, I commit my all to it. When PDP lost the governorship election in Nasarawa in 2011, the burden of building the party was wholly on my head because the party was at the verge of collapsing. I insisted that the party will not collapse because democracy requires that the opposition must be sustained. To achieve this, I encouraged the party officials at all levels. I even bought nomination forms for them to participate in the party activities with my money.
Each time there was any party meeting in Lafia, I would send money to these officials to assist their transportation because there was nobody to help them. At every festive opportunity, I will send gifts to these officials and some of our members to celebrate. In fact some APC members were partaking in the sharing of these items because their party never cared for them as much as we do to our members.
In addition, I was the one always defending the party at the national level whenever there was any attack on the party from the opposition. I was virtually involved in the polemic of the party at every given time. All my earnings I ploughed back into the PDP at the state and national levels to make sure the party stood strong and tall.
Unfortunately as events turned out, the same way I was treated in 2011, it was repeated on me in the 2014 primary election. In 2011, after a wide mobilization towards winning the primary election because my boss then, Abdullahi Adamu, had completed his second tenure, I had the leverage to contest with his support. Out of the 13 local government and 16 development areas making 29, I had 23 leaders solidly behind me. But just two months before the primary election, the system began to turn against me.
Just a week before the primary, party officials started telling me that they had been instructed not to work for me and that it appeared my boss (Abdullahi Adamu) had somebody in mind and not me. Eventually it became clear that he instructed them to support Aliyu Akwe Doma.
I was confused at that point and asked why I should be treated that way. I was told that Doma was an elderly person and that they wanted an elderly person and not somebody of my age. I was told that I was too young and therefore should wait. And I know that at 2007 I was already 45 years and was older than some state governors.
Of course there was lot of pressure on me then. The ANPP wanted me to run under their party but I turned down their request because of my loyalty to the PDP. When Doma came on board he called on me to join him so we could work together but I told him no because two governors could not be in a state.
In the course of my waiting, President Goodluck Jonathan made me Minister of State for Information and later elevated me to be the Minister of Information. While I was a minister I worked very close with Doma and we went everywhere campaigning in 2011. What actually happened was that we lost that election to CPC because there were some god fathers who under-mined us and were playing anti-party game in Nasarawa, working for the CPC to clinch to power.
It was quite amazing that during the elections, soldiers and the police turned against us as the ruling party chasing away our people from the polling booths. Almakura had god fathers in PDP who were using the party structure to work for CPC. Strangely we were told that Almakura won the election. How could you win an election as governor where you have 20 out of 24 assembly members who are PDP.
For sectional reasons, somebody in PDP is championing the fight from the opposition against the party. This is the kind of gloomy situation we find ourselves in Nasarawa state. This was why we lost the election in 2011.
However, I continued to strengthen the party only for, in the course of the 2014 primary election, to see the ugly trend we witnessed in Nasarawa local government where the list of delegates was changed, non-delegates were brought in.
To worsen the matter, thugs were brought in to threaten people on religious grounds saying 'if you vote for Maku, we will kill you and burn your house'. On the eve of the election, there were meetings in Keffi and in a farm of a PDP stalwart where threats were issued to anyone who did not comply.
The cause of the crisis going now is that some people in the state have said the Christians can never rule Nasarawa. And I say that is not correct because I grew up in a mixed family where we have both Christians and Muslims. In my village, my traditional ruler is Muslim and nobody is raising eye brow because I believe we are one people.
When I saw all this happening in the state I tried every means possible to appeal to the party to wade in. But the national leadership of the party failed to respond to my allegations. I wrote further to them stating that if they don't do anything I was going to take steps. I was waiting until APGA came and told me I could not continue to wait when our state was in dire need of a leader who will salvage it.
I joined APGA when the political status of the state has changed.
The cock is crowing with APGA drawing support in the villages and towns across the state. My journey to APGA has expanded the frontier of competition in Nasarawa. Neither APC nor PDP can today pretend that the governorship seat is theirs because the political thermometer is not the same now. Going by the massive support from the youths and women who have sworn their support to APGA, I can assure you that a repeat of what happened in 2011 where an unpopular party seized power in Nasarawa will never again happen by the grace of God.
How do you react to the verbal attack against you by the pdp leadership over your move to apga?
It is expected that when my kind of person leaves a party, that party cannot be happy. The PDP leaders attack is expected. I believe they know my worth and what I have contributed to the success of the party. I am not going to join issues with them because a number of them are old enough to be my parents, a number of them are my leaders in the offices they are holding today. I don't want to be seen quarreling with them; I want to focus on my goal and campaign. What they said in the public I have replied them. It is all about what my people want. Their lives are in jeopardy; they need me to come to their rescue and can't ignore what my supporters are calling on me to do.
Politics is all about your acceptability at the local level, no matter your relevance at the national level. If you are not relevant at the local level, how can you be a politician? My people in Nasarawa are saying they a dying; the state is in a state of violence and we want somebody who is strong enough to emancipate us and restore peace and give the state a direction. If I ignore their call, then I am not a politician.
If elected as governor, will you empower the ombatse?
The war that is going on in Nasarawa now is purely insurgency. What is going on in Borno and Yobe is what is going on in Nasarawa right now. Today, the Alago, Ahos, Agatu, Tiv and the Eggon people cannot go to their farms because of the insurgency in the state.
The initial crisis was between the Alagos and the Eggons in Asakio and the parties are now running away from their ancestral homes because stronger forces have taken over the land. If I become the governor of Nasarawa, all the problems associated with violence will stop. Right now nobody can accuse me or associate me with violence. I don't have to kill, or attack anybody or to sacrifice a chicken to win election.
Everybody is suffering in the state. The Fulani are the first to tell me to contest for governorship because they are all tired. It will take APGA with its slogan, 'Be you brother's keeper', to restore the peace Nasarawa needs.
APGA adopted President Jonathan as it presidential candidate and I am the presidential campaign director in Nasarawa. Goodluck Jonathan is a wonderful president. People are attacking him today because of ethnic and sectional rejection. If you want to look at who has planned and moved Nigeria in the last few years, it is President Jonathan.
Are you realy getting support from nasarawa senatorial zone where you belong knowing well that majority of political rivals are also from same zone?
The answer is yes. It is so because the PDP played down the power sharing formula. In 2009, we started the governorship with Nasarawa west. We moved to Nasarawa south in 2007 and by 2011 nobody from the other zone contested knowing well that it was the still the time of Nasarawa south. Even Almakura, when he won in CPC, he swore by the Koran that he was going to spend only one term. That is why some of the political gladiators from Nasarawa north supported him thinking that he was being genuine.
When he started reneging in 2012, the APC collapsed because of what they call betrayal and treachery of the APC government. Which means that even in APC the general expectation was that power was going to move to Nasarawa north not to talk PDP. Everybody expected that the PDP will respect the initial agreement to produce the candidate from Nasarawa north. This would have given the PDP a leeway but because of sentiment of religion, PDP went and brought somebody from the south. That is why my emergence has completely altered everything. I don't want to state my support on the pages of newspaper for the opposition to go and destabilize me but I can assure you that from Nasarawa north, to all the zones, my supporters are everywhere.