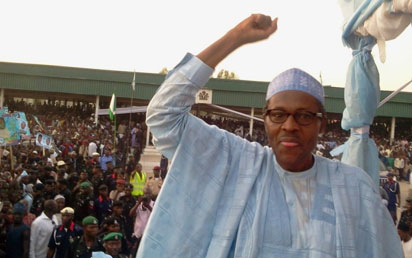 AS Nobel Laureate, Professor Wole Soyinka put it the other day, 'this intervention has been provoked, not so much by the ambitions of General Buhari to return to power at the head of a democratic Nigeria, as by declarations of support from directions that leave one totally dumbfounded.' Nothing best describes the upsurge of vociferous but futile calls for Nigerians to forcefully swallow hook, line and sinker the arrival of a long awaited messiah in Buhari.
If political irredentism is a fixation, then we become quite familiar with this journey to perfidy, having travelled along same route in 2003, 2007 and 2011. Familiar in the sense that long before elections hold, celebrations begin that opposition has won. Then comes election day, results are announced and Election Tribunals here we come, etc, etc.
But perhaps this year's election victory celebrations have never had so much grandiloquent exhibitions as the APC is demonstrating in the current campaigns.
Grandiloquent exhibitions
To be sure, the APC whether individually as AD, ACN, CPC or ANPP have never been able to produce a presidential candidate of their own, in the real sense of the word. In 1999 when it became obvious to the so-called and self-called progressive parties of the left wing capitalist orientation that they could not go it alone, they hurriedly shopped for a presidential candidate in Olu Falae to challenge Olusegun Obasanjo of the PDP.
All the other parties must have realised the master stroke of the PDP's decision to allow its candidate come from the south west to appease frayed nerves in the region following the annulment of the June 1993 election. Added to the annulment was the death of Chief M K O Abiola, which singular event was capable of throwing national political stability overboard.
The PDP guessed right and chose Gen. Olusegun Obasanjo and as it turned out, the choice fitted the political mood of the nation as he beat Olu Falae fair and square.
Then came 2003, Gen. Muhammadu Buhari comes on board the presidential race with the purposeful ambition of dethroning Gen. Obasanjo at the polls. He got his politics mixed up and following a series of discordant vibes coming from his ANPP campaign organisation, he suffered a huge defeat in the hands of the old war horse, Obasanjo who quickly moved to appoint some of the leaders of ANPP including its then national chairman to positions in his new Government.
That effectively put the ANPP out of contention and dealt the party a severe political blow from which it never recovered. It was not surprising, therefore, when in 2007, Gen Muhammadu Buhari emerged again as the ANPP candidate and he sought to actualize his presidential dreams. Again, he failed as the PDP flag bearer Umaru Musa Yar'Adua defeated him at the elections in what was regarded as not too free, fair and credible elections.
In 2011, Buhari said his presidential pursuit was an idea whose time had come this time under his quickly formed platform, CPC. Again Dr. Goodluck Ebele Jonathan who had just risen to the office from a most controversial and intricate cobweb of political intrigues to succeed late President Yar'Adua, took the General to the cleaners at the polls after which Buhari himself vowed it was his last attempt ever at the presidency.
Now in 2015 Buhari has been forced to eat his words and he is not only in the race but is already celebrating victory because of their erroneous belief that President Jonathan is still a political delinquent and has too many problems to grapple with.
Not a few have bothered to ask Buhari exactly what convinced him to go back on his vow not to run for the office of President. Instead, he is being led around the country by discredited politicians of all shades and colours under the guise of being modern day progressives whose sole ambition is to grab the Presidential villa at all cost even before they decide what to do when they eventually do not get there.
The Buhari campaign is travelling a familiar path which in his quiet moments does not appear to be in tune with his character traits. Accompanied with so much dancing and merry making, we are yet to see Buhari himself dance or show any form of body language indicating he and his sponsors are on the same page. Time will tell and there is not much time left anyhow as the Buhari campaigns have suddenly assumed the notion of trivializing the irrelevant.
Gwanzuwang writes from Abuja