Eight years ago, Jimi Agbaje ran a very impressive campaign when he first came into public consciousness and was contesting for the gubernatorial job in Lagos State. His jingles were catchy and his message resonated. He even had one jingle where he came dancing acrobatically to a melodious tune. It was full of verve. It was full of energy. Fashola in comparison led a dull, dour almost uninspiring campaign. At least, that was what it seemed like to me and I told my late friend who was handling his campaign ads that his man did not come across as a confident candidate.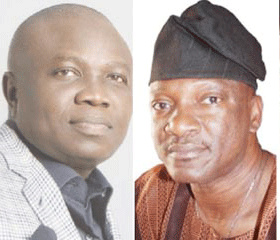 I wonder if the outcome would not have been different if Fashola was not the chosen of Tinubu whose hold on Lagos politics then was almost total. What a difference eight years make however; today very few people would regret the selection of Fashola. He has acquitted himself creditably and has also grown in stature. His eloquence, his competence, his grasp of issues make you feel proud you have him in your corner. He has also showed a genuine interest in improving the lot of the people and leaving Lagos a better place.
People who scoff and say all he had done was to plant a few flowers seem to have forgotten what Lagos was like 16 years ago. It was one giant ghetto! The roads were narrow and laced with craters; mountains of dirt stood everywhere and competed for space on the side roads especially during the rainy season when corn came out. The rainy season also meant that drains which had been blocked by dirt and illegal structures, ensured that floods stood on the roads a while longer.
Now, we enjoy wider road networks, cleaner environment and yes, cleaner air. The lightening of the streets and freeing of bottle necks on the roads meant a significant reduction in crime. Lagos had too many dark spots where crime festered and blossomed. Obalende was one; Oshodi was another. A lot has also been done to improve the infrastructure. Many will say Lagos is a better place today than it was eight years ago.
Another argument against Fashola is that he could have done better given the amount of money that accrues to the government monthly. Of course he could have done better and I am sure he would be the first to admit to that. But the nature of Nigerian politics which means many greedy mouths including those of his fiercest critics had to be fed regularly could be partly responsible. He might not have been the most prudent or the most focused of the governors but he rates high. He certainly was not the most profligate.
We should also give him and Tinubu credit for engineering the internally generated revenue that has made Lagos to be financially independent of the Federal purse. It would have been easy as was previously done, and as many of his colleagues still do, to sit back and await Federal allocation. One can only hope that one day soon, the Federal Government would take a cue from Lagos and stop relying on oil revenue alone.
My grouse with him though is that he could be elitist in his approach to problems of State. This sometimes made him brusque and distant to the challenges of the downtrodden. An example was his handling of the LASU issue. His goal was lofty and good universities cost money to run but he must not forget the poverty level in his State which though significantly higher than the national level, is still pretty dismal. The allegation that he over concentrated on urban roads could have some merit as well. Ize Iyamu in Oregun, the road where my office is, has not been touched by any government since I moved there some 25 years ago. Today, mechanics and illegal diesel sellers have crowded the once wide, industrial road. This road is less than a five minute drive to Alausa, the State's seat of government.
All told, Fashola has raised the bar in governance and if Mr Jonathan had done the same at the Federal level he would not be resorting to ethnic and religious politics to stay in power today. His performance would have spoken for him. Fashola's performance means Lagosians will not accept tokenism as governance any more. It will not be enough to build a few roads and a few schools and call them achievements as some state governors still do. This makes the task before Ambode/Agbaje more daunting. Both have run nice campaigns. I particularly like the one from Agbaje that says: 'JK we know. JK we trust'.
I mean, who really knows Ambode outside the precincts of Alausa? Agbaje also seems more assured, more confident. To get a better, deeper feel however, I sent a text to a colleague who had just interviewed the two of them and asked him who was the better candidate? I'll quote his answer verbatim. 'Rhetorics…Agbaje. Better prepared…..Ambode. That says a lot.
On the issue of sponsorship, one is being sponsored by two former State Governors who left Lagos better than they met it and would want to continue a template. The other is sponsored by two former Federal appointees whose resume leave much to be desired. Who, as a voter will you choose as a godfather between Ogunlewe and Fashola; George and Tinubu? Finally, one is a candidate of PDP while the other is a candidate of APC. Again which of these two parties given the politics of Lagos will be a help to its candidate?
I am reminded of the gubernatorial election of 1979 when Chief Adeniran Ogunsanya of NPP contested against Alhaji Jakande of UPN. Ogunsanya was the more suave, more charismatic and more politically accomplished candidate and could have won easily if they were both independent candidates. But they were not. Ogunsanya was Zik's associate while Jakande was Awo's associate and there lay the difference. At a point, Ogunsanya had to cry out that he was not vying against Jakande alone but also against Awolowo, the leader of the Yoruba. Jakande as we all know won and performed creditably.
At the end of the day, your associates and the party you contest under always matter. I rest my case.