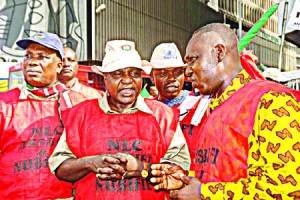 lagos—ORGANISED Labour and Lagos State government are heading for a showdown over plans by the state government to privatized water supply in the state, with labour threatening industrial action among others to force the state government to abandon its plan.
Amalgamated Union of Public Corporations, Civil Service Technical and Recreational Services Employees, AUPCTRE, in a statement, weekend, called on well meaning citizens of the state to rise up against the plan to privatise water supply in the state, warning that "over a billion people today do not have safe water to drink.
There is therefore, a global water crisis of epic proportions. Globally, national and locally, governments face a tremendous challenge to find the political will to deliver safe and clean water to their communities.
"We condemn in strong terms the intention of Lagos State Government to go ahead with the planned privatization or commercialization of Lagos Water which in turn will further pauperize the down trodden people of Lagos. The union wishes to call on all well meaning Lagosians, in particular and Nigerians in general to join and support the union in this noble struggle."
In a statement by AUPCTRE President, Adelegan Solomon, the union lamented that today, the World Bank was aggressively promoting private water contracts to governments through "Public Private Partnership, PPPs," adding "The experience of the past 30 years shows that PPPs in the water sector has failed all segments of the society.
Look at cities that have decided to take back from public hands: In the North, you have Paris, Berlin, Budapest, Atlanta; Buenos Aires in Argentina; Bogota in Colombia and on our continent: Amman, Bamako, Rabat, Tanger, Johannesburg, Dares Salaam. Jakarta in Indonesia will be next."
"In Nigeria, Lagos is among the many cities in the global South where investment on water supplies is desperately needed. There is no consensus on where the answer lies in private management, public sector or a combination of both. For the union and the general public, the answer still lies with public ownership of water in view of its importance.
As we speak, more than 80 percent of Lagos piped water supplied are thought to be stolen; only five percent of people receive it in their houses, taps are often dry, sanitation is non-existent most of the metropolis and the hospitals are full of people suffering diarrhea and other water related diseases.
"We are hereby putting our elected leaders and senior bureaucrats on notice that workers and our civil society allies will fight to block this privatization. But we won't stop there, we will continue our campaign to ensure that all levels of government deliver on their commitments and their obligations to all Nigerians, to implement the human right to water and sanitation, to invest our common resources in a transparent and corrupt free manner."